The global business outlooks for Europe and China / SE Asia are predominantly positive for 2021. Whereas the international German companies look more pessimistically onto this period: 27 % expect negative developments in foreign business in 2021. Only 17 % expect positive business outcomes. The internationally active German companies are facing major challenges in their global business this year: the effects of the coronavirus pandemic, lockdowns, the economic crisis situation in many countries and increasing trade barriers. Most of all, traveling abroad is difficult if not impossible. Therefore, foreign operations are hard to maintain and steer.
The German outlook for international business
Even one year after the start of the global pandemic, COVID-19 still has numerous implications on international business: 77% of business trips are affected by travel restrictions, 69% cancellations of trade fairs and conferences, 40 % of foreign-active companies report problems in their supply chains, almost half of the internationally active companies are postponing investments and 44 % are experiencing less demand for their products and services due to the pandemic. 
Moreover, one in three companies lack goods or services, 30 % report cancellations of orders, 21 % increase of legal uncertainty as well as production and illness losses within the companies. Liquidity bottlenecks and a lack of financing are a noticeable challenge for 15 % of the internationally active companies. 
Even independently of the coronavirus pandemic, almost half of the companies report new trade barriers in their international business. 40% of foreign-active companies have problems in the supply chain or logistics due to restrictions in border traffic or production stoppages. German companies are most often confronted with increased safety requirements. Additional testing of products or international security regulations cost companies time and money. Local certification requirements have similar consequences and are an obstacle to international business. 
More positive tendencies in the rest of Europe and China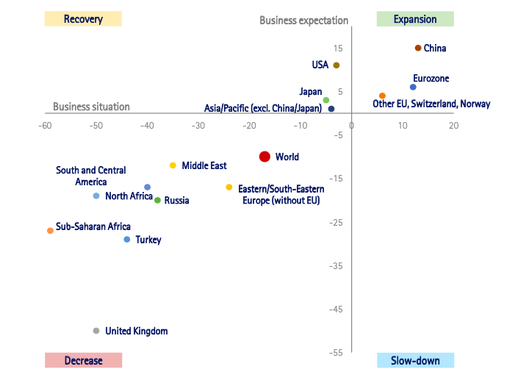 On the other side, in China and in other parts of Europe companies expect to expand their business this year, as both, the assessment of the current situation and the outlook for the coming twelve months are predominantly positive. Companies assess their business activities in some EU countries as well as Switzerland and Norway similarly positively, although somewhat worse compared to the previous year. Additionally, companies with operations in the Asia-Pacific region and North America are in the process of recovery. Although the companies' assessment of their current business situation is still predominantly negative, the outlook for the coming months is positive. Expectations for the coming twelve months are better than in the Eurozone: 30 % of companies with an optimistic outlook compared to 19% with a more negative outlook.
International business outlook in other regions
Finally, in the countries of South and Central America, Africa and the Middle East, companies still do not expect a recovery in their business activities this year. In addition to the current poor business situation, most companies do not see any improvement in the coming months. Only 11 % of German companies with business relations in countries in South and Central America assess the current situation and the outlook for the coming twelve months as good.
What can be done in times of crisis?
* Take the crisis as a chance to grow
* Re-think your activities, check your international potentials and markets
* Align processes, select people, streamline operations 
* Invest in Marketing, Sales, Digital business to be prepared and the first ones, when markets are opening up again!
Overall, leave the crises stronger than you entered it
Expandeers Global Network can support you: We are present in your markets. We can support you with our trusted and reliable network of international senior professionals and
overview and optimize your operations,
select and hire the right people,
plan and execute digital / eCommerce activities,
perform all analogue / digital marketing measures
and even generate leads, find distributors, new sourcing providers and increase sales for you 
in every market in the world.
Especially in Corona times, when traveling is restricted, you can rely on us as your trusted local executive power. Get in touch with us: +49 (0)40 - 80 60 36 70 or drop an email to info@expandeers.com to check how we can support you operations globally.