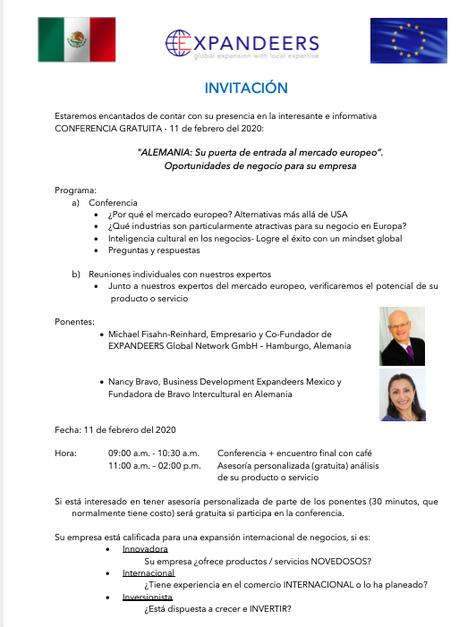 Expandeers (Mexico) will be holding three days of conferences together with the German Center Mexico (Santa Fee offices / CDMX) and COMPARMEX Querétaro (Qrtr).
As Expandeers is the reliable partner for global expansion of Startup-companies and Small/Midsize businesses (SMB) during the meetings and conference many insights will be shared. If you and your company intend to expand your business from Mexico to Europe, e.g. to Germany, join us on Feb. 11 to 14 in Querétaro and CDMX and talk to our experts and professionals in person:
February 11, 2020 at COPARMEX Querétaro from 9:00 a.m. - 2:00 p.m.
February 13 and 14, 2020 from 11:00 a.m. - 4:00 p.m. in the German Center of Mexico City (Santa Fe)
You'll also have the opportunity to subscribe for an individual business talk and first consultancy free of charge with our experts on site.
Please contact nbravo@expandeers.com for registration and further information on the events.