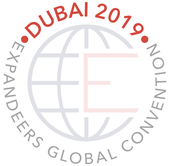 We are very excited for that we will be holding our annual Global Partners Convention in UAE this year. From 14th until 17th of November, all EXPANDEERS members and strategic partners - this side along with spouses - are invited to join our meet-up in Dubai. 
In workshops and discussions we will evaluate new global opportunities for midsize companies from all over the world.
As it is not that common that Swedish experts exchange with their Malaysian Counterparts, Mexican partners discuss opportunities with Thailand, Pakistani talk peacefully with our partners from India and Lebanon exchanges with Canada in person, we feel it to be a great opportunity for all usually resulting in exciting new options. We will have talks on POS BI-Software, Artificial Intelligence in manufacturing, smart packaging, Water testing solutions, printing and Predictive Maintenance. Over all reflecting our broad customer activity fields.
Of course there will be plenty of time to socialize and do some sightseeing as well. If you are a member, partner or even our customer, you are cordially invited to join. Please contact Anksana@expandeers.com for more information and registration.