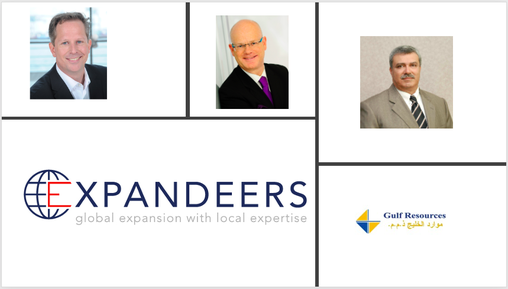 A very intense and fruitful business trip to Dubai in April 2021 also led to a meeting with Gulf Resources LLC. Now we are happily announcing our strategic partnership between Expandeers and Gulf Resources!
Gulf Resources conveys and provides financial resources from its wide base network of high-net-worth individuals, family offices and financial institutions. Gulf Resources is well known and established in GCC for providing competent knowledge and market intelligence, business and financial advisory, financing business ventures and managing mergers and acquisitions to its clients.
Expandeers is the Germany-based and globally active business development organization that provides start-ups and midsize companies instantly with local business development solutions including research, business services, (analogue / digital) sales and marketing in a large variety of industries across the globe.
"Our decision is based on the success of Gulf Resources and its partners in the MENA Region for more than twenty years", said Michael Fisahn-Reinhard, Managing Partner of Expandeers. This strategic partnership will be an additional factor to Expandeers Global Business Partners to have a large reach into the MENA Region and benefit from Gulf Resources market presence and professional advisory and commercial brokerage services."
"The MENA Region market provides dynamic potential opportunities for Global SME and investors - we believe that our direct involvement in this market as facilitators will strengthen Expandeers strategy and help its Global Business Partners in their decision-making process reaching for more business in the MENA Region said Najib Sayegh, Managing Director of Gulf Resources – Dubai."
This partnership will improve and optimize both business models and will supply best allocation of resources and activities. In short it will be a benefit for Gulf Resources and Expandeers' network as well as for all clients around the world.
We are looking forward to deepen our cooperation in Dubai, UAE, GCC and around the globe.