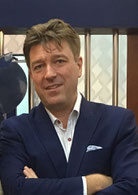 Expandeers is gladly welcoming our new partner for ASEAN countries: Niels resides in Kuala Lumpur / Malaysia and will bring a wealth of experience to strengthen Expandeers' position as our partner for ASEAN and also in the segments of M&A. Niels presently works as an interim CFO for the Venture Capitalist Digital Way Ventures Limited with various participations in Industry 4.0 related industries as Artificial Intelligence (AI), Internet of Things (IoT) and Blockchain technologies as well as many other participations in Automotive, Health Care and Digital Retail. Niels is also the Co-founder and CEO of Kinslager (M) Sdn. Bhd., a design and bespoke tailoring specialist.
From 2008 until 2012, he acted as the CFO of the Valiram Group, Kuala Lumpur, Malaysia, which is the largest independent luxury retailer in South-East Asia. Before that, he served as the Vice President Finance & Controlling and Administration (CFO) of Mercedes-Benz Malaysia. Niels joined Daimler AG headquarters in Stuttgart, Germany, in 2001, where he worked as Senior Manager Business Development & Strategy for Digital Sales and Telematics. In that role he signed responsible for driving the strategic development in this field as well as leading respective (M&A) activities. Niels graduated with a Masters Degree's equivalent in Business Administration of the University of Cologne, Germany, followed by an Entrepreneurship Development Program from Sloan School of Management (MIT), Cambridge, Massachusetts, USA at the Massachusetts Institute of Technology (MIT). Later, he extended his executive education with the Advanced Executive Program at the International Institute for Management Development (IMD), Lausanne, Switzerland.
Since 2013 Niels is a Rotarian and served as Director Vocational Service  2013/14 and as Honorary Secretary 2015/16 at the Rotary Club of Kuala Lumpur DiRaja.
With strengthening our position in Malaysia, we again put focus on that country as a hub for SE Asia and especially the ASEAN countries. Please contact us if interested in further opportunities regarding ASEAN countries at Malaysia@expandeers.com!