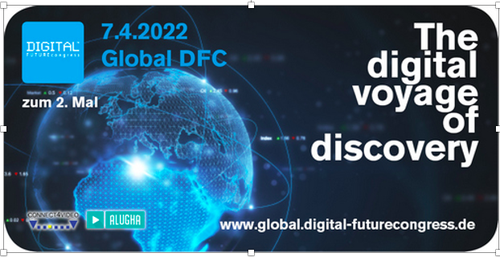 SAVE THE DATE: 7th of April 2022 Global DFC
The Digital Future Congress (DFC) is a virtual congress around international business development and digitalization where contemporary and future technologies are combined with global business know-how. The DFC is interesting for companies from all over the world who want to optimize their operational processes, establish cross-border trade relations and expand with their own portfolio.Business experts and specialized IT providers will give practical, user-oriented presentations. The dedicated speakers will present in their nat ive language. The presentations are  available in English or German audio and additionally automatically subtitled by AI  into the following 8 languages: Arabic, Chinese, English, German, French, Hindi, Portuguese, Russian, Spanish. If you'd like to attend the DFC, you can participate live or view on demand.
Expandeers Middle East (Dubai) and Expandeers Southeast Asia PLT (Kuala Lumpur) will present at the Digital Future Congress on 7th of April on stage 1 at 9.50 am CEST (Malaysia) and 3.20 pm CEST (Dubai).
With regard to the Ukraine crisis the DFC has decided to provide free worldwide access.
This comprises:
Participation in all lectures and workshops
Visit of the virtual exhibition
Virtual networking
You can book your free ticket here.
We look forward to welcoming you as our guest at the Global DFC! For any information you may require, please contact us at info@expandeers.com