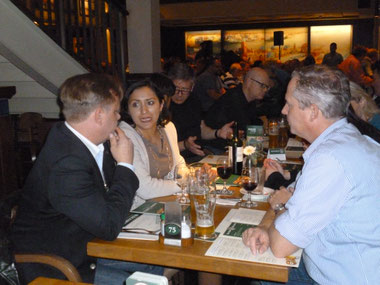 Expandeers again proved that we are a real personal and professional network: On the weekend of 19th to 21st of October our Expandeers Global Partners' Meeting took place in Hamburg. This time we welcomed many new as well as long time partners from Luxemburg, Malaysia, Romania, Pakistan, India, Mexico, Sweden and from all across Germany.
After a welcome night out at Landungsbrücken, on Saturday we started early with our workshop day: very busy, loads of information and many new insights and new opportunities arising out of personal meetings of our EXPANDEERS partners. But we also spent enough time for networking, fun, individual discussions and exchange. 
Every attendee had the chance to give a short presentation about their personal backgrounds, their expertise and potential of the respective country. We are glad that our new partner bring a unique set of experiences, perspectives and ideas which make a real difference to the success of Expandeers and for our clients. We finished off the day with time for shopping and touring around, as well as a banquet dinner at The Port restaurant of the Hotel Hafen Hamburg and a cocktail at the Tower Bar with a great view on the harbor side of  Hamburg. The Sunday networking breakfast at the Madison Hotel was followed by a tour of Speicherstadt and HafenCity with the Elbphilharmonie concert house as well as with a boat trip on the Elbe. 
We look forward to working together and harnessing the diversity and strength of Expandeers to realize our new exciting plans and projects and for the success of our clients! We are happy to have you Expandeers with us!