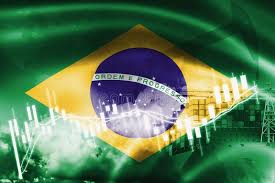 BRAZIL: Exporter of industrial products       
Being the largest country by population as well as land area in South and Central America, Brazil shipped an estimated $224 billion worth of goods around the globe in 2019. That dollar amount reflects a -6.6% decline (YOY) from 2018 but a 17.2% growth since 2015.
Based on the average exchange rate of 2019, the Brazilian Real has depreciated by -18% against the US dollar since 2015 and eroded by -7.5% from 2018 to 2019. Brazil's weaker local currency make Brazilian exports paid for in US$ less expensive for international buyers.  Brazil is the world export champion for many commodities, but few people take into consideration that Brazil manufactures planes (which operate in Germany, for example), cars, transformers, electric motors and generators of all sizes, machine tools, roller bearings, other standard parts and many of the components that are necessary for the manufacturing of machines and systems.
Compliance with international standards such as ISO 9000 is absolutely common in Brazil. Also, Brazil allows contracts to be in any language, as long as both parties can understand them and certain rules are followed. The pace of every negotiation depends on the place or city where it is held. How to find the right supplier and how to ensure that you get what you want, without any problems? Buying something is mostly easy, if you know the supplier already. Sourcing is the process of finding the right supplier, who can either be a manufacturer, importer or distributor.
Expandeers can assist you regarding any sourcing in Brazil and putting the overall process of procurement in place. With Expandeers' associates Karlheinz and Holger we will get the right pricing and delivery conditions negotiated for you. Furthermore, financial health and references of the suppliers can be verified and delivered to you. Whether you need steel scrap for your foundry, standard parts for your production or subassemblies, units such as pumps, compressors, but also frequency converters, tools, devices, aluminum profiles, glass parts and complete machines, e.g. lathes, milling machines, drilling machines, machining centers, special machines – contact us at Latam@expandeers.com to learn how we can support your business.   
Expandeers is a multilingual global professional network of senior business development experts, providing reliable expansion support to SME around the world; we offer full Expansion Management and expansion services to SME in many ways: From strategy, set up, sales, market entry, marketing, digital business, business development up to sourcing and staffing - we cover all segments a business could ask for when growing ambitions are high.
Karlheinz and Holger are the managing partners of EUROLATINA LTDA. in São Paulo, a company that has been helping industrial companies from Central Europe for more than 25 years in order to conduct business in South America, with a focus on Brazil. As an engineer and business economist with many years of international experience, they complement each other and understand the concerns of our customers.