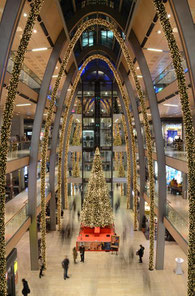 Holiday season is nigh and at Expandeers we are getting ready for Christmas break. But before we pack our bags to head home, it is time for our last newsletter this year and reflect on what has happened this year and especially, what had happened in the last months.
Happy holidays and a Happy New Year to everyone who is celebrating it from all Expandeers partners around the world.
We are looking forward to an exciting year 2019 - together with our members, partners, clients and great network contacts we have.
An Exciting year for Expandeers
No matter if you celebrate Christmas, Hanukkah, Kwanzaa or none of the above, as the end of 2018 is not far, we are taking the time to take a look back. It has been an exciting year for Expandeers: A lot of new Business Developers, Marketing Executives and Senior Sales Managers have joined us. We took up new memberships with BVMW, CDH and organized the German Malaysian Round Table.
Expandeers' clients projects advanced strongly, especially in Europe, South East Asia and Latin America. Topics like Automated Optical and X-ray Inspection Systems, implementing an IoT barrier technology, an App development and market launch, predictive maintenance systems, digital printing, cloud services, home automation and according services formed only one side of the medal. But also trading steel, ore, quartz, Arabic gum and aloe vera caught our attention and grabbed our focus, proving our capabilities to sell almost everything everywhere successfully.
A successful year comes to an end and we are looking forward to advance Expandeers even further.